HUAWEI nova 10 Pro - Here is what blew our minds in this Beautiful Trendy Flagship Smartphone with the ultimate Front Camera and Fastest Charging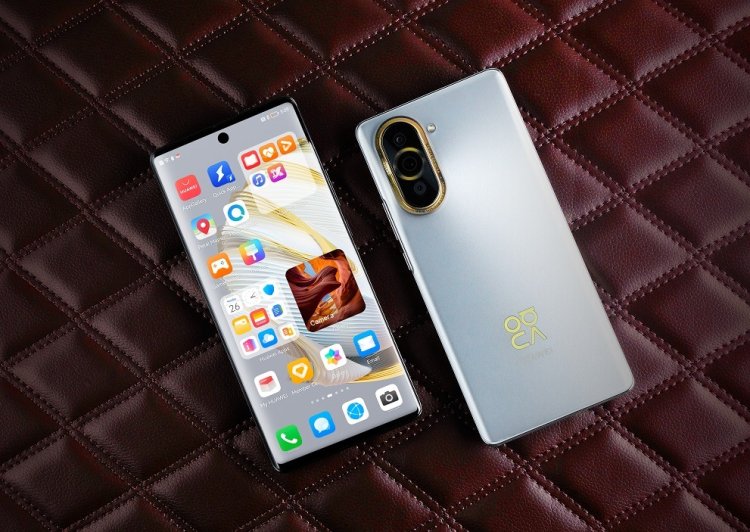 It is 2022, and people have high expectations for their smartphones. People no longer just use their phones to make calls, send messages, or access the internet or social media. Many, especially the younger generation, expect their phones to do much more than that. Huawei has surprised everyone with the launch of one of the most beautiful trendy flagship smartphones with the ultimate front camera and fastest charging, the HUAWEI nova 10 Pro. Even better, it comes with the trusted, innovative, user-friendly and secure AppGallery where users can easily navigate, explore, find and download a wide range of high-quality apps.
The nova moniker is derived from the Latin word "novas", signifying that every rising star is born to shine, akin to the passion of youth when chasing their dreams of a better future. Created on the foundation of innovative technology, every generation of the HUAWEI nova series strives to represents the ideology of an innovative piece of technology that has an on-trend design, powerful cameras, excellent performance and offers smart interaction experiences. With that ideology in mind comes the launch of the new HUAWEI nova 10 Series, taking the series into its 10th generation. As of July 2022, the nova Series has accumulated a total of more than 200 million users worldwide.
A stunning new aesthetic
HUAWEI nova 10 Pro comes with an all-new design. But the highlight is the new Colour No. 10 that uses silver as the main tone, but with a colder overall tone. This colour matches flawlessly with the golden Star Orbit Ring and brings out the exquisite 3D hyperbolic surface, taking beauty to new starry heights. The Star Orbit Craft was refined using more than 20 processes to create a sleek, silky texture and look and a dual-colour dual-plating glare film also to highlight it. The golden nova logo on the back is applied with nanometre-level precision, creating the striking gold-silver effect, which serves as the exclusive mark of the HUAWEI nova Series and the embodiment of youthful fashion.
Using the COP encapsulation technology, the HUAWEI nova 10 Pro was able to slim down the bottom bezel to a mere 2.56 mm. Besides Color No. 10, the phone also comes in Starry Black with an embellished golden Star Orbit Ring.
60MP Dual Autofocus Front Camera: Master of selfies
HUAWEI nova 10 Pro is equipped with a 60MP Dual Autofocus Front Camera, featuring Instant AF with Quad Phased Detection on the front. This setup consists of the industry's first 60MP Ultra-Wide Autofocus front camera, supporting a 100-degree ultra-wide angle with a 1/2.61-inch sensor and 4K Ultra-Wide Front Video. The second 8MP Portrait Close-up Camera supports 2X optical zoom and up to 5X digital zoom for outstanding close-up portraits. The HUAWEI Multi-Vision Photography feature also comes with an AI feature, which can even detect finer edges of the subject's hair and create an SLR-level bokeh in the photos.
The HUAWEI nova 10 Pro sports the industry's first front camera with Instant AF using Quad Phased Detection (QPD). No matter how the textures of the object change during shooting, accurate focus data can be easily obtained. All pixels are involved in imaging and focus, and the overall focus performance is greatly improved, especially in dimly lit conditions.
Using the Dual-View video function, users can utilise multiple cameras to shoot simultaneously, with the combination of dual front cameras, front and rear cameras, and picture-in-picture shooting. They can also freely adjust between the 0.7X~5X zoom range with the nearest effective focal length of 14cm, allowing a great deal of creative control while shooting vlogs. The AI texture portrait algorithm has greatly improved the all-scenario performance of HUAWEI nova 10 Pro.
Taking it a step further, HUAWEI nova 10 Pro employs a Flagship-Level Colour Engine that supports the P3 wide colour gamut. It calibrates more than 2000 colours to bring five times better colour precision. As a result, the colour gamut coverage is increased by 25 per cent compared to sRGB, helping the camera capture what you see accurately.
Fast charging with 100W HUAWEI SuperCharge Turbo
Equipped with the 100W HUAWEI SuperCharge and Turbo charging mode, the HUAWEI nova 10 Pro allows you to say goodbye to low battery anxiety. It only takes 10 minutes to charge the phone from 20% to 80%, while fully charging the phone in just 20 minutes. On top of that, the large 4500mAh battery makes for a long-lasting battery life even with heavy usage.
The HUAWEI nova 10 Pro features the HUAWEI Ultra-Generation VC Liquid Cooling Structure. Through systematic heat source distribution and heat dissipation architecture design, this new heat dissipation technology optimises cooling. The new Touch Turbo 2.0 can effectively improve users' mobile gaming experience.
Powerful rear camera for brighter night shots
The 50MP RYYB Ultra Vision Camera setup on HUAWEI nova 10 Pro consists of a 50MP RYYB Ultra Vision Camera and an 8MP Ultra-Wide Marco Camera that supports autofocus. 50MP Ultra Vision Main Camera with a 1/1.56-inch sensor ensures a high light sensitivity, allowing users to capture high-quality photos. Huawei's flagship-grade RYYB colour filter array replaces the green pixels in the sensor with yellow pixels, increasing light intake by 40 per cent. The camera supports a light sensitivity supports of up to ISO 400000, which effectively improves the imaging performance in low-light shooting for taking clear night shots with rich details.
The 8MP Ultra-Wide Marco Camera also supports 2cm macro shooting to showcase the wonderful microscopic world and creates portrait photography with the bokeh effect. The Super Night Shot feature helps bring out excellent details beyond the perception of human eyes in dark scenes, as well as leveraging its powerful light sensing capabilities and pixel-grade reconstruction technology to increase the brightness of dark areas.
The HUAWEI nova 10 Pro supports Instant AF with Quad Phased Detection and zero shutter-lag technology, which can perfectly capture even dynamic outdoor sports such as skateboarding and basketball. This function can process elements, such as people, sky, buildings, and plants, to enhance the overall look and feel of photos, easily locking in and freezing the beauty of a fleeting moment. There is also a Portrait Video function, which allows users to shoot portrait videos with natural-looking bokeh.
120Hz Original-Colour Curved Display
Be it playing games or watching videos, the vibrant 6.78-inch 120Hz Original-Colour Curved Display on HUAWEI nova 10 Pro has got you covered. Additionally, the display supports an adaptive screen refresh rate between 60Hz and 120Hz according to different application scenarios, striking a balance between a smooth experience and long battery life. Users also get to experience the P3 colour gamut and HDR10 technology. Having a high refresh rate along with 300Hz touch sampling ensures a smoother user experience, whether it is daily operations, web browsing or gaming. Through the Display Turbo image quality enhancement technology, the HUAWEI nova 10 Pro can intelligently analyse portraits based on AI deep learnings and also supports real-time calculation to optimise face definition in short videos by up to 50%.
Visionary and inspirational Super Device features
Thanks to the Super Device features, Huawei has consolidated different menus into the Control Panel with a simple swipe, users can explore the Control Panel and get quick access to audio playback, Wi-Fi and Bluetooth settings, as well as making it easier to control multiple devices as if they were controlling just one device.
For example, users can tap on the HUAWEI MatePad icon to activate Smartphone-Tablet Multi-screen Collaboration; tap the HUAWEI MateBook icon for Smartphone-PC Multi-screen Collaboration or tap the HUAWEI FreeBuds icon to seamlessly switch their audio output to their Huawei earbuds.
With the Distributed File System, the HUAWEI nova 10 Pro can also function as a wirelessly connected external storage unit for the PC, meaning users can access the files they want more easily than ever before. This means when users are drafting an email on the PC, they can add smartphone files as an attachment or when they see an image they like when browsing the internet on the PC, they can save that image directly to the smartphone. Users may also conveniently share their screen during a video and even mark key places, to bring important insights directly into view.
Our take
There are three version of the HUAWEI nova 10 including the HUAWEI nova 10, HUAWEI nova 10 Pro and HUAWEI nova 10 SE which will be available in the market next week. When there is HUAWEI nova 10 Pro, with its chic design, dual front cameras, and scorching fast charging speeds, you shouldn't have to think twice to decide which phone you should go for this year.
Price and availability
The HUAWEI nova 10 Pro is priced at 254.9 BHD and HUAWEI nova 10 at 209.9 BHD, both will be available in the innovative Color No. 10 as well as in premium and subtle Starry Black colourways in Bahrain. Pre-orders for both smartphones are available now on Huawei's online platforms and at City Centre Bahrain.