Maha Emirates Awards 2023: Honoring Excellence in Real Estate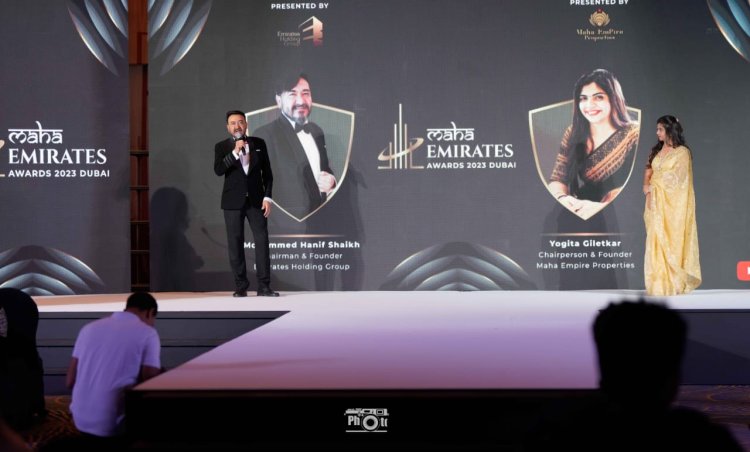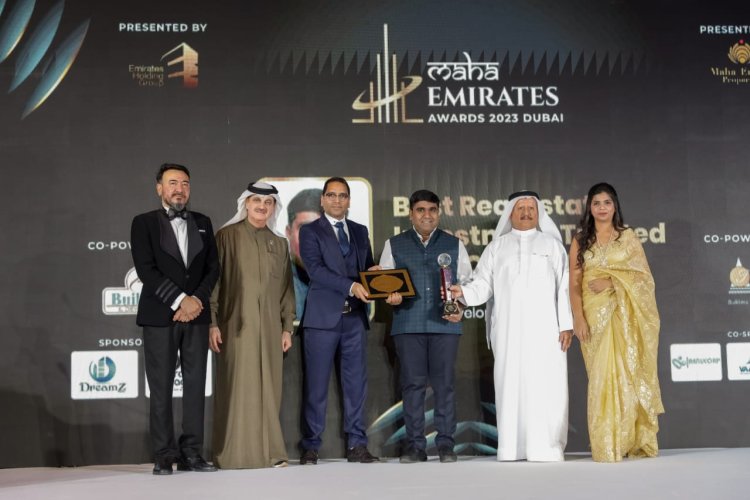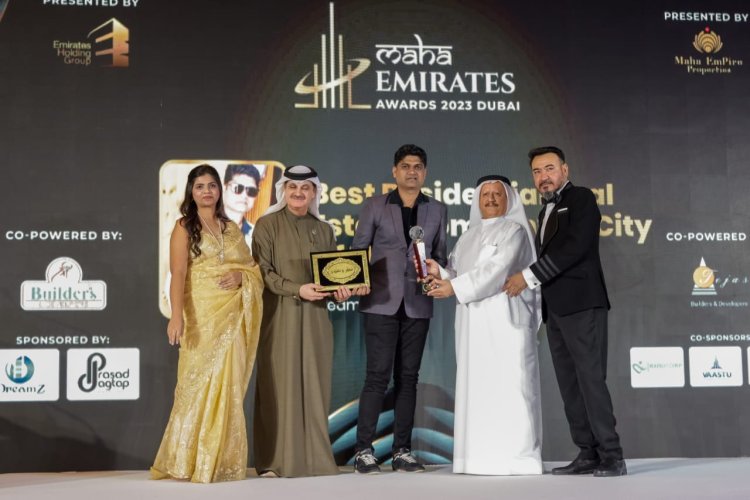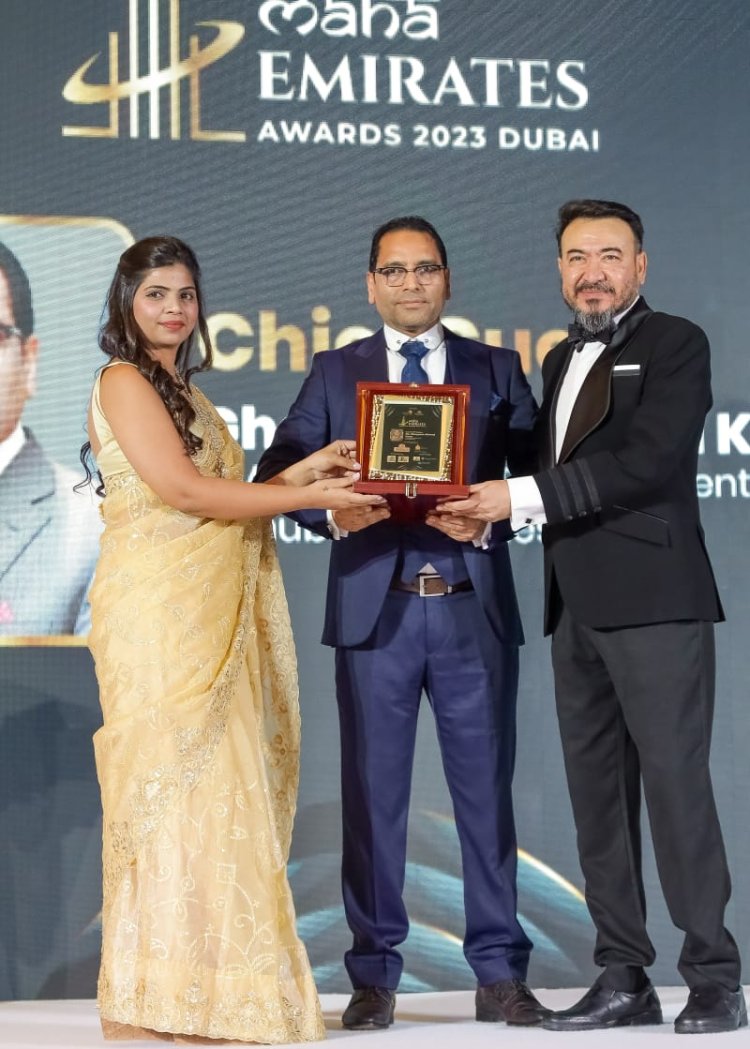 The esteemed Maha Emirates Awards 2023 event unfolded in the heart of Dubai at Marriott Hotel Jaddaf, presenting a grand showcase of achievements in the real estate sector. This spectacular evening celebrated the remarkable talents, innovations, and unwavering dedication within the industry.
The event commenced with the compelling speeches by industry leaders, Mr. Hanif Sheikh, Chairman and founder of Emirates Holding Group, and Ms. Yogita Giletkar, Chairperson and Managing Director of Maha Empire Properties. Their words resonated with the significance of the occasion.
The spotlight then turned to the core values of the Emirates Holding Group, as elucidated by Mr. Hanif Sheikh, and insights into Maha Empire Properties, shared by Ms. Yogita Giletkar. The stage was brilliantly illuminated with the unveiling of Maha Emirates, where Ms. Yogita Giletkar and Mr. Hanif Sheikh revealed their vision and objectives.
The event was graced by esteemed Chief Guests and Guests of Honor, including Ghayyour Ahmad Khan, Yakub Al Ali, BuAbudllah, and H.E. Dr. Mohammed Saeed Al Kindi, adding to the prestige of the evening.
A significant highlight was the announcement of the merger of Dreamz Realty, Maha Empire Properties and Emirates Holding Group, unveiling projects worth over 100 crore Rs and subsequent projects valued at over 2000 crore Rs.
The pinnacle of the event was the Awards segment, recognizing outstanding individuals and entities for their exceptional contributions to the real estate industry. Notable awardees included Mr. Sangram Patil of Tejas Patil Developers, awarded the title of "Greatest Leader In Real Estate of the Year," and Mr. Amol Jare of Shree Builders & Developers, who received the "Developer of the Year - Residential" award.
Other esteemed award recipients included Mr. Sarafaraz Shaikh (Dreamz Realty), Mr. Vaibhav Wankhade (Renucorp), Mr. Prasad Jagtap (Prasad Jagtap Group of Companies), Mr. Uttam Yalmar , Mr. Pravin Partil,Mr.Sanjay Dakway (Vaastu builders and devlopers )Mr.Nilesh Patel (Kricon Group), Mr. Bhupesh Nikam (Bhoomi Enterprises), Mr. Vishal Dave (Maa Group), Mr. Akshay Pansare (Shree Builders & Developers), Mr.Satish Kadu , Mr. Hasmukh panchal and many more, all recognized for their exceptional contributions.
The evening was enhanced with glamorous fashion shows by renowned designers - Preetam Nayak, Old Story by Shilpa & Sanju, Neena Fashion, Stile by Ali, and Royal Vogue by Inamul Haq. Back stage was handled by Talent Hub, Make by Manni arora and Emcee was Leena.
The event also acknowledged the Fastest Growing Construction Chemical Solutions Brand of the Year, Rising Sun Chemical Solutions Pvt. Ltd, and the Best Real Estate Investment Trusted Firm of the Year, Rudra Developers. Entrepreneurs and innovators were also celebrated, including Mr. Mahesh Giletkar , Mr. Vijay Alder ,Ms. Shweta Bobde, Mr. Anikesh Chavan, Mr. Ajit Rokade, Dr. Ganesh Teltumbade, Mr. Rohit Bommawar, Dr.Roohi Jain, Mr. Dinesh Malpe, Mr. Abdul Mateen, and Mr. Vishwa Chordia.
Notably, Mr. Dilip Auti was celebrated as the Guest of Honor during the fashion show, adding to the evening's entertainment, which was further enhanced by captivating fashion shows.
The event was proudly co-powered by Tejas Builders and Developers and Shree Builders and Developers, with sponsorship from Dreamz Realty and the Prasad Jagtap Group. Co-sponsors included Renucorp, Vaastu Builders and Developers, and Kricon Group.
Special thanks to Mr. Datta Jadhav ,Mr.Dinesh Malpe, Mr.Asif khan, Mr. Yusuf khan ,Mr . Ganesh Jadhav ( Property Covrage )
The event took place on the 31st of October at the prestigious Marriott Hotel, Al Jaddaf, Dubai.
The event concluded with media partners and a heartfelt vote of thanks, marking a memorable evening filled with inspiration and celebration.
Maha Emirates Awards 2023 was a tribute to the brilliance and commitment of individuals and organizations in the real estate industry, paving the way for a brighter and more innovative future. It is an event that will be remembered for years to come.
We extend our special appreciation and gratitude to Mr. Raakesh Surve, the individual responsible for the success of the event, including its conceptualization, planning, and the driving force behind the scenes.
Maha Emirates' upcoming event is scheduled for March 2024.