Summer Season's smartwatch selects for 2022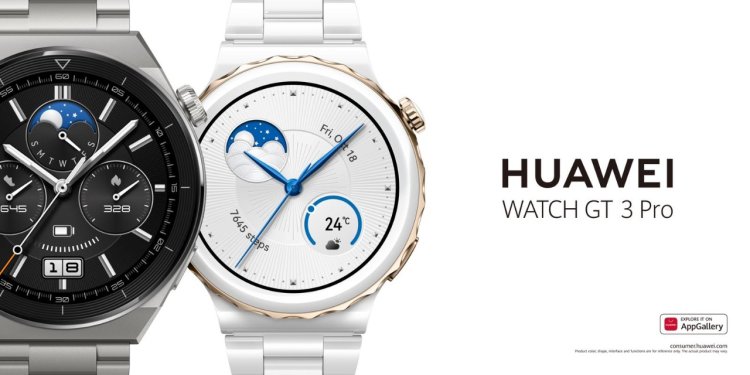 An everlasting masterpiece, HUAWEI WATCH GT 3 Pro
What are your summer plans? Well, buying the latest Huawei Watch GT 3 should definitely be in your list of summer essentials. The watch is now released in two variants – Titanium Edition 46mm and Ceramic Edition 43mm. It is bound to deliver a lavish, upgraded and more convenient user experience. There is more to the watch than meets the eye – it comes with a 14- day battery life with wireless fast charging, professional health management, new workout modes, in addition to other convenient life assistant features.
The HUAWEI WATCH GT 3 Pro Titanium Edition is equipped with a titanium metal case, sapphire glass lens and ceramic back case. Every detail has been processed with ingenious craftsmanship and fine polishing techniques, making it full of quality and lightweight, yet dazzling. Thus, it brings a soft natural gloss with excellent quality, highlighting its feminine and elegant features. Its high-end design is complemented by a Moon Phase function that brings to users unique watch faces from which they can observe the different phases of the moon as it changes.
HUAWEI WATCH GT Runner
Its the first professional running watch built for sports, and it is not only the wearer's smart assistant, but also your personal training coach. The HUAWEI WATCH GT Runner is a sports watch that comes loaded with real-time heart rate monitoring, accurate track positioning, scientific running program and an AI Running Coach feature. In addition to its lightweight and comfortable design, it also boasts an astonishing 2-week battery life, all-day health management, convenient life assistant features, and broad compatibility with accessories and third-party apps.
The sports watch adopts a lightweight and high-strength composite fibre watchcase, which enhances durability. The entire watch body is as light as 38.5g, providing a comfortable wearing experience to runners. The HUAWEI WATCH GT Runner also adopts an antibacterial silicone watch strap, so you don't need to worry about sweat and dirt contacting the strap during training which can affect health, as well as comfort.
HUAWEI WATCH FIT 2
The newly launched HUAWEI WATCH FIT 2 is yet another step in the newest direction of finesse and luxury. It follows a design like the HUAWEI WATCH FIT but with more refinements. The new watch has an AMOLED 1.74-inch HUAWEI FullView Display and a new chessboard launcher that offers a seamless user experience. Users can customise the watch using a wide selection of watch bands and watch faces.
HUAWEI WATCH FIT 2 features a speaker and a microphone and supports Bluetooth calling feature that allows users to accept or reject calls. The reply can be customised in the HUAWEI Health App, allowing users to always stay online and not miss anything important. Users can also reply quickly to messages via instant messaging apps from the watch itself.
Competing wearables usually struggle when it comes to battery life. But HUAWEI WATCH FIT 2 shines with 10 full days of battery life under typical usage scenarios and 7 days under heavy usage on a single charge. On top of that, fast charging technology allows users to use the watch for 24 hours with a 5-minute charge.
Compatibility
One of its biggest plus points is that all HUAWEI watches are compatible with Huawei devices as well as other devices running on Android and iOS systems, and that is an advantage if you are using devices from other brands.
Are you ready to have this new gen watch in your collection? Visit Bahrain City Centre's HUAWEI kiisok and official HUAWEI retail distributors in Bahrain to know more.