Sheikh Muhammad launched "world's coolest winter" campaign in UAE.
Sheikh Muhammad calls for the third season of the tourism campaign "World's Coolest Winter" in UAE.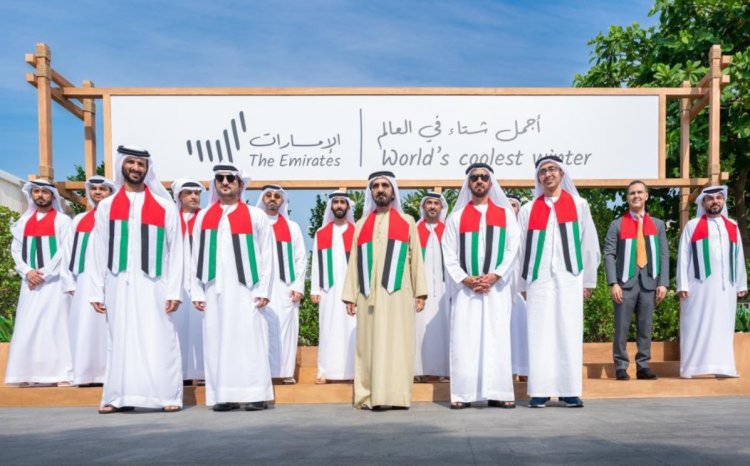 His Highness Sheikh Mohammed bin Rashid Al Maktoum, Vice-President and Prime Minister of the UAE and Ruler of Dubai chaired a cabinet meeting at Al Zorah Natural Reserve in Ajman where he launched the third season of the world's coolest winter, a domestic national tourism campaign.
H.H. Sheikh Maktoum bin Mohammed bin Rashid Al Maktoum, Deputy Prime Minister and Minister of the Interior, Deputy Ruler of Dubai, Deputy Prime Minister, Minister of Finance and H.H. Lt. General Sheikh Saif bin Zayed Al Nahyan all attended the conference.
His Highness said that the tourism is a big source for Emirati economy and the earlier World's coolest campaign helped in the tourism industry to boost by 36% in 2021.
This year's theme is "Our Heritage" that is in favour of promoting the rich Emirati values and culture and its distinct features that include hospitality, tolerance and solidarity. Public and private sectors will join hands to move the idea forward and come up with activities that can show Emirati culture andheritage.The second campaign helped in gaining a monthly revenue of AED1.5 billion.
ترأست اليوم اجتماعاً لمجلس الوزراء في محمية الزوراء في إمارة عجمان .. أطلقنا خلاله الموسم الجديد من حملة السياحة الوطنية الداخلية "أجمل شتاء في العالم" … عجمان الرمال البيضاء .. والحصن الأحمر .. وجبال مصفوت .. ووديان المنامة.. هي محطة انطلاق الحملة هذا العام pic.twitter.com/lKJbjefbOx

— HH Sheikh Mohammed (@HHShkMohd) December 4, 2022