First tamil short film Shot in Bahrain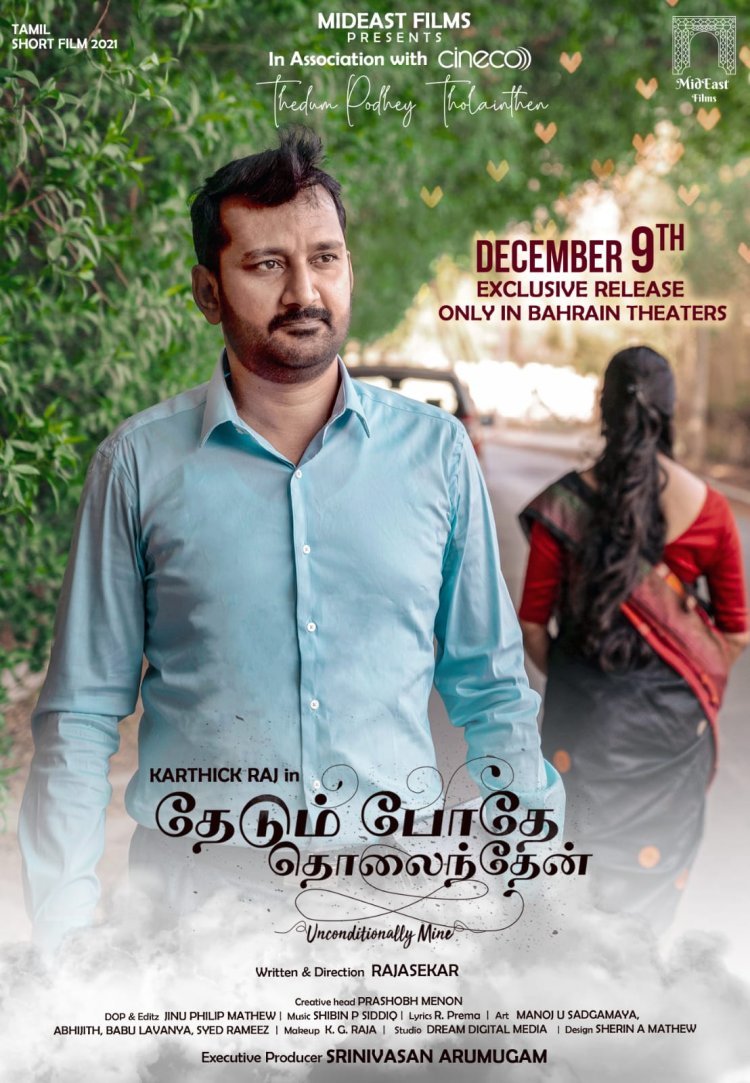 Exciting news for the people of Tamil has spread all over Bahrain. Movie lovers can no longer wait for the new project release of Karthick Raj in theatres by the tempting name, 'Thedum Pothey Tholainthen'.
Karthick Raj, a leading Tamil film and television actor, played a number of roles in acting and narration of various films, television shows, web series, and serials. Due to his phenomenal performance, the actor increasingly gained popularity and fame throughout his career. With such prominence, Sir Karthick Raj has successfully achieved many awards and prizes all over his profession.
Mideast Films Srinivasan has produced the movie in association with CINECO, and Prashobh Menon is the Creative Head of the cast. Rajasekar has passionately managed to be the writer and director of the project and has served the purpose with real motivation. The Music by Shibin P Siddiq adds glory to the project with seamless cinematography by Jinu Philip Mathew. Various actors including Nisha Rengarajan, Veena Veeramani, Kathu Sachindev, and others have accompanied Karthick Raj in this compelling project, making it yet more appealing.
The thrilling news has spread like fire among the residents in Bahrain as the film gets to be featured in Al Hamra Theatre on December 9th. The film is completely developed in the Kingdom of Bahrain and it is the first short Tamil film to be featured in the theatre. The official launch of audio is scheduled on October 22nd at Chennai by Actor Bharath & Actress Vani Bhojan, at the same time at Hotel Gulf Inn, Seef, Bahrain.
The ticket price, BHD 1 only, attracts many Tamilazn's to mark their calendars, have a change from their daily routines, and experience the Tamil theatre for the first time in Bahrain. This worthy experience is what people are waiting for as the seats are increasingly being booked day by day online through wanasatime.com.
Such participation of high-ranked actors, writers, and producers makes this project appealing for the viewers to get a worthy experience. These precious joys are the reason why residents of Bahrain feel the zest of being connected to the world by real means!