Dr. Sana Nabeel is striving to make hundreds smile in the UAE
A smile makes us look 10 times more friendly, pleasant, and attractive. However, on a daily basis, how confident are we in our smiles? Let's make a change and reclaim our self-assurance. No worries, this has become easy as we've got someone to assist us!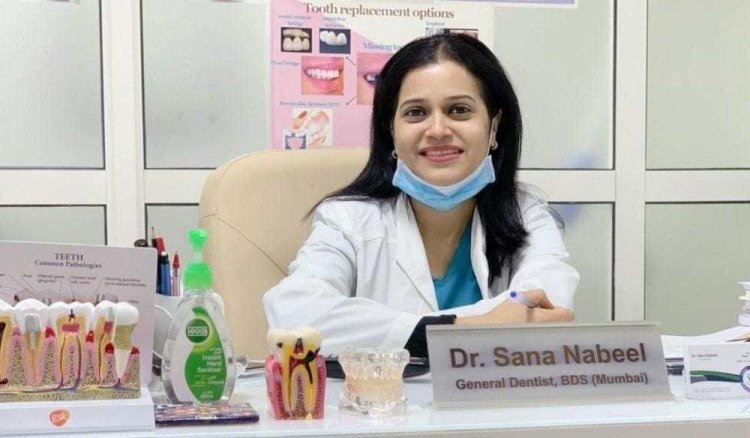 Dr. Sana Nabeel, a renowned dentist born and raised in Mumbai, has her own dental clinic in the United Arab Emirates. According to her, everyone deserves to smile, and she works hard to make that happen via her outstanding dental work. Her life slogan is "bring a smile on everyone's face."
The journey from Doctor to Entrepreneur
The founder of Elements Dental Clinic in Al Nahda, Dr. Sana provides general dental services in a professional and relaxing setting, with an emphasis on patient care and well-being.
"Being of service to others is key to real pleasure," Dr. Sana says. Every day, with patient encounters, my dentistry profession offers me this chance. The satisfaction of solving their difficulties and watching their faces light up at the conclusion of treatment is priceless."
The USP Brand
Upon discovering, Elements Dental Clinic's USP is in light of the increasing competition in almost every sector of life and every industry in existence today.
"Respecting Time" means giving each therapy the time it needs to get the optimum results. We strive for client happiness by providing a cost-effective and compassionate service. "This is how we do things around here," Dr. Sana explains.
Living in the 21st century
A woman is expected to manage not just her work life, but also her personal life with even more efficiency. We asked Dr. Sana about the most difficult hurdles she faced as a doctor-entrepreneur. "Time management and multitasking while working as a working mother to a small family and establishing a dentistry office from the ground up in a new nation away from home was extremely difficult. "Things have fallen into place by God's grace, and I've been blessed with helping hands to help me conquer my obstacles. The United Arab Emirates has a beautiful and helpful business climate that is regarded among the best in the world.
Conquering hardships
Assembling a team of doctors and support professionals to work with me at the clinic is another difficulty. I want them to share my objectives, be enthusiastic about what they do, and treat patients with the same compassion that our brand promotes. It's critical that everyone on the team thinks in the same way and has the same vision and goals for the clinic and for themselves." What keeps our great doctor going in a world full of fatigue, exhaustion, and the dread of being worn out? "What keeps me going every day is the happiness I feel when patients see their new confident smile, are relieved of discomfort and are able to resume the functional use of their teeth," she says.
I appreciate being a part of the answer to the patient's difficulties since dentistry has the capacity to help people to reinvent themselves." Make an appointment with the most compassionate dentist who provides the best service to help make yourself love more!